The Eye Boutique Blog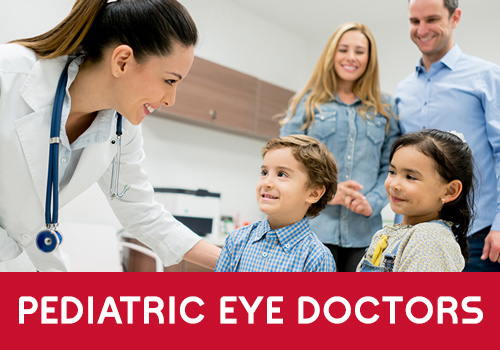 Pediatric eye exams at 6 Chicago-area eye care centers

Eye exams, vision correction & eye health for children

At Eye Boutique, our board-certified optometrists provide comprehensive eye exams for kids, teenagers & patients of all ages, including children with special needs.
If your child needs vision correction, our highly trained opticians will guide you to suitable eyewear based on your child's age and prescription. We know it can be tricky finding the right fit, so we take the time to make sure every pediatric patient and family receives personal attention.
Find answers to the most common questions parents ask us about pediatric eye care as explained in this article:
Book your exam online or contact your store today:
Illinois school eye exam requirements
Illinois state law requires all children enrolling in kindergarten (and ANY student enrolling for the first time in Illinois) to have an eye exam. Proof of an eye examination must be submitted to the school no later than October 15 of the enrollment year.
Vision loss can happen at any age. Children who experience vision loss might not be aware they're not seeing the way they should. Help your child succeed at school, sports & extracurriculars by making sure they have healthy eyes and sharp vision.
Just bring a copy of your chlid's Eye Examination Report to your appointment and we'll take care of the rest. You can view or download a copy here.
What is a pediatric eye exam?
A pediatric eye exam is a medical assessment of your child's eye health and vision. Even if your family doctor or pediatrician "checks" your child's eyes as part of regular checkups, it's no substitute for a comprehensive eye exam and vision assessment from an eye doctor. Our eye doctors are all licensed optometrists (OD) with years of experience.
Eye health and clear vision are crucial for learning, playing sports, and general safety.
Your child's eye exam covers overall eye health and checks for:
Ability to focus accurately & comfortably
Visual acuity and near, middle & far distances
Eye teaming skills (how well both eyes work together)
Accurate eye movement
Many different eye conditions and diseases can affect a child's vision and eye health. Early detection and treatment are critical for proper development. If necessary, our optometrists can recommend an ophthalmologist or other specialist.
How much is a pediatric eye exam?
For patients with vision insurance, typically the cost of a yearly pediatric eye exam is covered. We offer free benefit checks (no appointment needed) at all locations.
For patients without vision insurance, Eye Boutique keeps routine eye exams affordable. Now through the end of December 2019 a comprehensive eye exam is just $49.
When should I take my child to the eye doctor for the first time?
Children should have an eye exam before entering kindergarten. Our eye doctors provide eye exams for children ages three and up. For toddlers younger than three, please contact us for a referral.
School-aged children and teenagers who don't need vision correction should have an eye exam once every two years. If your child wears glasses or contacts they should have an exam once a year.
What can I expect at a my child's eye exam?
Ages 4-5 years
During an eye exam for small children the eye doctor will check for:
Amblyopia (lazy eye)
Strabismus (misaligned or crossed eyes)
Visual acuity
Eye testing for small children may include:
Vision tests using symbols or icons (such as a house or apple) instead of an eye chart
3D glasses used to view random dot patterns to measure eye teaming
Retinoscopy (shining a light into the eye) to examine the retinal reflection and help determine prescription if necessary
In addition to the recommended routine eye care, you should schedule an eye exam if you notice your child frequently squinting or rubbing their eyes, avoiding visually dependent activities like puzzles or coloring, getting too close to screens or reading materials, or struggling with number, letter and object recognition.
Ages 6-18
At eye exams for school-aged children optometrists check for:
Focusing and visual acuity (near- or far-sightedness)
Proper binocular vision (eye teaming)
Peripheral vision
Depth perception
Color vision
Eye tracking and hand-eye coordination
Sometimes children struggling with school or extracurricular activities have an underlying vision problem to blame. If a child (or parent) doesn't realize they have abnormal vision, untreated vision problems may lead to behavioral issues including short attention span.
Parents of school-aged children should schedule an eye exam if their child has symptoms including:
Frequent headaches or blinking
Frequently losing their place when reading, poor reading comprehension, or avoiding reading
Double vision or often tilting head to one side
Inability to maintain focus or eye contact
Eye alignment fails when looking at near objects
Good vision is essential for reading, learning and motor skills development. Undiagnosed and uncorrected vision problems can lead to academic, social or athletic difficulties.
Pediatric eye health
Your optometrist will also check the area around the eyes and look inside the eye to screen for symptoms of eye diseases and other health conditions including:
Abnormal or infected eyelash follicles
Eye discharge
Swelling
Bumps on the eyelids or skin around the eyes
Cloudiness or other irregularities in the cornea, iris or lens
Many vision and eye issues are easier to treat when found early, especially while the eyes are still developing.
How can I keep my child's eyes healthy?
There are several eye health tips good for patients of all ages:
Eat a nutritious diet including plenty of fruits and vegetables
Foods with antioxidants, vitamins and minerals including vitamin C, omega-3 fatty acids, vitamin E and more promote retinal health & support healthy tear production.
Stay active & maintain a healthy weight
Risk factors like high blood pressure, high cholesterol & diabetes can lead to vision loss.
Wear protective eyewear during sports
Discuss your child's extracurricular activities with your eye doctor to learn how to prevent common eye injuries.
Monitor screen time & take breaks
Don't let kids stare uninterrupted at computer screens, televisions, smartphone displays or tablets. At a minimum, take a screen break every 20 minutes to relax the eyes.
Wear sunglasses
Children's eyes are even more vulnerable to UV light than adults'. Wear lenses with 100% UV protection when exposed to UV rays.
Avoid smoke
Encourage your children to avoid smoking, including second-hand smoke (and be a good example!). Smoking elevates the risk of forming cataracts, glaucoma, dry eye syndrome and macular degeneration.
Learn the family tree
Discuss your family history of eye health and diseases with your optometrist. Follow all of your eye doctor's advice on screening and treating eye conditions.
Young children may not recognize the difference between clear and compromised vision. If you notice your child frequently squinting, getting too close to screens, or closing one eye when trying to read, they may require vision correction.
Tips for your child's eye exam
If possible, schedule the exam for a time of day when your child tends to be alert and happy.
Tell your child's eye doctor about any relevant health issues including:
Premature birth
Known developmental delays
Allergies
Any injuries to the eye or eye area
Medications
A family history of eye or vision problems
If your child has failed a basic vision screening at school or pediatrician's office
Past eye treatments or prescriptions
If you have another specific concern or issue in mind, share that information with your eye doctor.
Eyeglass repair for kids' frames & lenses
Even with so-called 'durable' or 'unbreakable' glasses frames, eyeglass repair will probably be a fact of life when your child wears glasses. We offer on-site repair services to all our patients, no appointment required.
Contact the Eye Boutique nearest you for more information about pediatric eye care & services, or book your appointment online today:
Eye exams for kids - and the rest of your family
Eye Boutique provides affordable eye exams in the Chicago area from 6 vision care centers. We offer quarterly deals and discounts on eyewear, eye exams, contacts, and more.
Our eye doctors accept most types of vision insurance, and our staff can help you find the best options for affordable eyewear and eye care, even without insurance.
What is a children's eye doctor called?
Optometrists are eye doctors who conduct eye exams, write prescriptions for eyeglasses and contact lenses, prescribe medication to treat eye conditions, diagnose and treat eye disease, and offer pre- and post-operation care.
Eye Boutique eye doctors are licensed optometrists welcoming patients of all ages (3 and up). For patients younger than age 3, please contact us for a referral.
If your child is diagnosed with a health problem concerning the eyes, they may be referred to an ophthalmologist. Ophthalmologists have a different level of training and are qualified to perform eye surgery.
Meet your eye doctor: