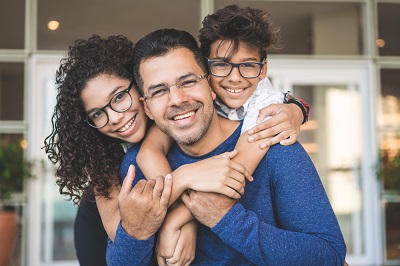 We make it easy to find the best glasses for your kids, at a great price.
Family-Focused Eye Care
Eye Boutique makes it easier to keep up with eyewear expenses as as your family grows. We take more types of vision insurance (including Vision Service Plan) and provide affordable options for patients without insurance. Our opticians will explain your coverage and show you how to get the most value from your vision plan. No insurance? We offer free consultations on pricing and patient financing so you can give your kids the vision care they need while controlling costs.
Your family eyewear budget goes farther here
When you buy your children's eyeglasses from Eye Boutique you get free frame repairs for the life of the glasses.
Looking for a strap, case or other holder for your kid's glasses? We also sell eyewear accessories and will be happy to help you find what you need.
Kids' designer glasses
We have kids' designer glasses from top brands including:
Visit us to try on kids' frames and get expert fit advice. Love designer frames? We have an even wider selection for teens and adults including Prada, Calvin Klein, Coach and many other labels.
Reading glasses for children
Having the right prescription glasses makes reading easier, whether your child is a bookworm or prefers to read on screens. For kids who study online or just love digital devices, we recommend a blue light blocking lens treatment to protect against digital eyestrain.
Kids' prescription sunglasses
If your child needs to wear prescription glasses for everyday activities (not just reading) we recommend prescription sunglasses. Children 3 and up should wear sunglasses to protect their eyes from UV rays, and prescription shades will ensure your child sees well, indoors and out.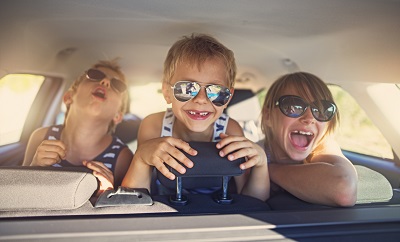 We have prescription & non-corrective kids' sunglasses in a variety of styles.
Answers to your questions about kids and glasses
Eye Boutique optometrists have years of experience working with adults and children of all ages. We offer comprehensive pediatric eye exams at all our locations. We believe in educating our patients about not only eyewear but eye health. During your child's eye exam you'll have the opportunity to address any questions or concerns you may have about eyeglasses and vision care for kids.
What are the best glasses for kids?
Your child's vision prescription is the number one consideration when choosing frames. An optician can look at the prescription and tell you how thick the lenses are going to be, and which frames will work best.
You'll want to make sure your child likes the frames they end up with, so they'll be more willing to wear them. Balancing your child's preferences with proper fit (especially at the bridge) is key.
For kids who play sports we recommend a dedicated pair of sports glasses for the best protection against eye injuries.
Our highly trained staff are happy to help you find the best pair of kids' glasses – no appointment needed.
Is anti-reflective coating worth it for kids?
Definitely. Anti-reflective (aka anti-glare) lens treatment makes vision clearer and reduces eye strain.
Will vision insurance cover kids' glasses?
For patients with vision benefits, coverage typically includes a yearly eye exam and either glasses or contact lenses, regardless of the age of the patient.
Our eye doctors take most vision plans and we provide free coverage checks to make it easy to understand and use your benefits for your whole family.
Shop for kid's eyeglasses at 6 Chicago-area eyeglass stores
Explore the latest kid's glasses styles from leading designers online, and visit an Eye Boutique near you for the best pricing and service.