Chicago Eye Doctors
There's an experienced optometrist providing comprehensive eye care at every Eye Boutique location in the Chicago metropolitan area.We encourage you to share important health information, ask questions, and make regular eye exams part of your ongoing preventative eye care. Protecting your eye health and vision is an ongoing pursuit between you and your eye doctor.
Meet Eye Boutique's Optometrists
Meet Eye Boutique's 6 optometrists in the Chicago area! Learn more about your eye doctor's background, optometric services, and accepted insurance plans.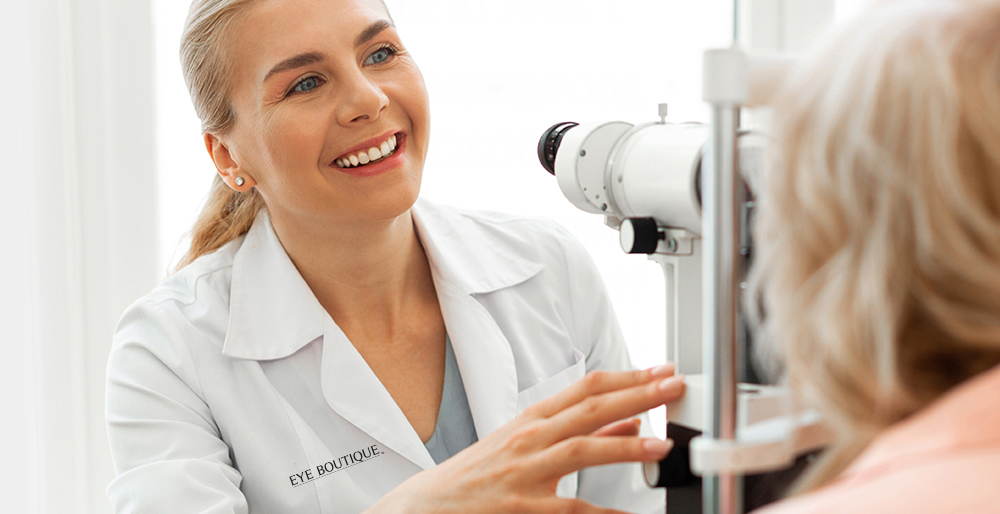 Reviews

Reviews
Geneva Eye Doctor Review

"Dr. Paul is very professional. You can tell he loves his job. Our whole family goes to see him. His staff is equally amazing. Customer service is top notch. No waiting on appointments. Happy Patients we are every time. He even said we could park in his parking spot!"
-Stephen F.
Our Doctor
Our Pledge
Our Vision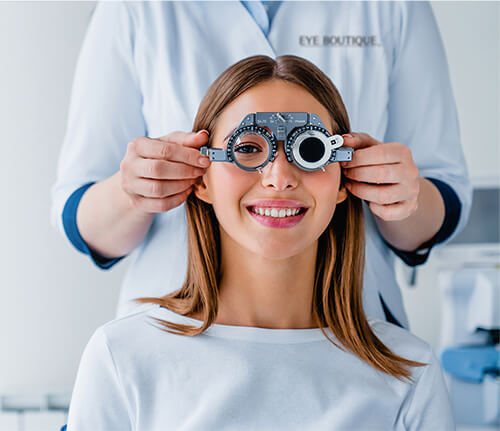 What's an Optometrist?
An optometrist is an eye doctor. More specifically, optometrists are primary care physicians who treat, diagnose, and manage conditions of the eye.
Through comprehensive eye exams, optometrists evaluate your eye health and vision quality, then provide treatment as needed. State law defines the scope of medical care optometrists are allowed to provide.

Optometrists in Illinois CAN:
Perform various eye tests- retinoscopy, tonometry, keratometry, etc.
Prescribe and fit any ophthalmic lenses including contact lenses
Diagnose and treat any ocular abnormality, disease, or visual or musclar anomaly of the eye or visual system
Remove foreign bodies from the eye and adnexa
Write orders for laboratory and hospital tests

Optometrists in Illinois CANNOT:
Perform surgery
Use lasers
Prescribe oral steroids, or prescribe pharmaceutical agents for children under 5 of age, without consultation with a physician
Give injections except for anaphylaxis
Prescribe schedule 1 or 2 controlled substances
Licensed optometrists hold a Doctor of Optometry (OD) degree. In most cases, optometrists will have completed a bachelor's degree in biology or a related science, followed by 4 years of professional training at an accredited optometry school.

Why are routine eye exams important?
Routine eye exams with your optometrists are important because eye diseases don't always have noticeable symptoms until permanent damage is done. Your optometrist will be able to diagnose many serious health issues before you're able to notice them and begin treatment before irreversible damage is done. Learn more about the importance of regular eye exams.
Pediatric Eye Doctors in Chicago
All Eye Boutique optometrists provide comprehensive eye care for toddlers (3 years and older), kids, teens, and children with special needs. For children under 3 years old, please contact us for a referral.

Frequently Asked Questions
Do eye doctors take insurance?
Eye Boutique optometrists take most vision insurance plans including union vision coverage. You can find a full list of accepted vision plans here. Our eye doctors also acceptCareCredit, and we offer regular deals and discountsto keep eye care and eyewear affordable for patients without vision insurance.
Can I book an appointment with an eye doctor online?
Do your eye doctors speak Spanish?
What is an optometrist?
An optometrist is a Doctor of Optometry (OD). Optometrists earn a bachelor's degree followed by four years of optometry school.
Optometrists are eye doctors who specialize in vision care and eye health. Think of them as your primary health care provider for your eyes.
The scope of medical care provided by optometrists is determined by state law. In Illinois, the practice of optometry includes:
Eye examinations and vision testing
Prescribing and fitting ophthalmic lenses

(including contacts) for nearsightedness, farsightedness, astigmatism & other conditions
Vision therapy

for problems like lazy eye, cross-eye, hand-eye coordination issues & more
Diagnosis and treatment for eye diseases, injuries and disorders

like glaucoma, cataracts, pink eye & more
Our optometrists see patients for regular eye exams, contact lens fittings, diabetic retinopathy screening, senior vision care, and a wide range of eye conditions. If specialized medical treatment or surgery is required, we'll refer you to a qualified ophthalmologist.
What's the difference between an optometrist and an ophthalmologist?
An ophthalmologist is a medical doctor who specializes in eye care. Ophthalmologists provide the same services as optometrists, and also:
Medical and surgical eye care
Plastic surgery (for example to lift drooping eyelids)
Diagnosis and treatment of eye problems caused by diseases like arthritis or cancer
When should kids see an optometrist?
Our optometrists provide eye exams for kids ages three and up. For infants and toddlers younger than three, please contact us for a referral.
Do your eye doctors have Optomap®?
Yes! Optomap® retinal imaging is available at the following locations: Naperville, Schaumburg, Joliet, Crystal Lake, and Geneva.
Are your eye doctors open on weekends?
Yes, all of our eye doctors are open on Saturday and/or Sunday to see patients. In general, weekend appointments are in high demand, so please be prepared to book ahead.