Accepted vision plans >> BlueCross BlueShield
Eye Boutique Accepts Blue Cross Blue Shield Insurance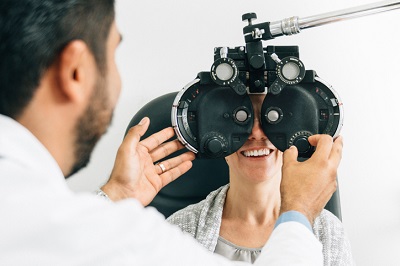 We make your BlueCross BlueShield vision benefits crystal clear so you can enjoy affordable eye care.
Since vision care benefits are one of those things most people use only when it's time to get a new pair of glasses, no one's ever entirely sure what is covered-especially with insurance companies changing their policies from time to time. Eye Boutique makes it simple. Just show us your BC/BS insurance card and we'll look into what your insurance will cover.
Maximize your benefits for eye exams, glasses, and contact lenses
Our goal at Eye Boutique is to help you maximize your insurance benefits and make the best decision for your needs and preferences. Most plans include coverage for a yearly eye exam, and it's a good idea to take advantage of this benefit. If you're just looking to update your look, you'll love our huge selection of designer frames. At Eye Boutique, you'll not only see well, you'll also look great.
Find a Blue Cross Blue Shield vision provider near you
Everyone deserves proper eye care. All 6 of our locations provide quality care for any patient, even without vision insurance. Learn more about our payment options, no matter where you are:
Accepted insurance & vision networks
Does Blue Cross Blue Shield cover eye exams?
According to the BlueCross BlueShield of Illinois website, vision coverage includes one eye exam every 12 months for each member. You don't need a referral from your primary care physician to see an eye doctor with your BlueCross BlueShield vision benefits.
Eye Doctors that take BlueCross BlueShield
Our optometrists accept BlueCross BlueShield vision insurance for eye exams at 6 Chicago-area eye care centers. Schedule an eye exam online or contact your store for more information.
Blue Cross Blue Shield Glasses
Blue Cross and Blue Service Benefit Plan has designated EyeMed Vision Care as its provider for eye care services and products, including prescription eyeglasses. Coverage includes discounts on designer glasses frames, part of the cost of optical lenses (including treatments and add-ons), and discounted prices on contact lenses.
Even when you find your vision benefit description on the provider website, it can be hard understanding exactly what's covered and what you can expect your out of pocket expenses to look like. Just give us a call or stop by with your BlueCross BlueShield vision insurance card and we'll check your coverage and explain it in plain English. We also offer eyewear financing options to make it easy to get the eyewear you need right away and pay comfortably over time.