Accepted vision plans >> Humana
Eye Boutique Accepts Vision Insurance Plans from Humana
If you have vision coverage through Humana but aren't sure what's covered, our eye care professionals will look into it for you. Just come by any of our Chicago-area locations, or call us during business hours, and we'll let you know what your plan benefits amount to.
We'll help you maximize your Humana vision benefits
We all know insurance and healthcare costs keep going up, but regular exams and updated vision prescriptions are too important to ignore. We'll help you navigate the details of your Humana vision plan to get the most value from your benefits.
Unless you understand exactly what's covered and how to make the most of it, you're leaving money on the table. We work with vision insurance companies all the time. We'll explain your coverage in plain language so you can get the eye care you need without the uncertainty.
What does Humana cover for vision?
According to their website, Humana's most comprehensive vision plan covers:
A yearly eye exam with low or no copay
All or most of the cost of eyeglass frames and lenses (or contact lenses instead of eyeglasses)
Diabetic eye care for patients who need it
Discounts up to 20% on products not covered in your plan (as long as you choose an in-network provider)
There are different types of vision plans available from Humana. Call or visit one of our stores and we'll let you know what's covered in your plan.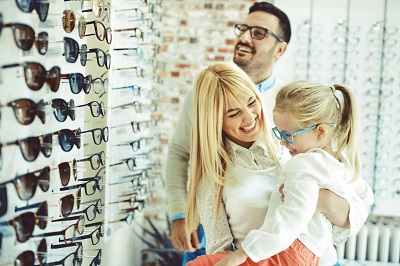 We'll explain how to use your Humana vision benefits to give you & your family the most value.
Does Humana Vision cover sunglasses?
Depending on which plan you have, it's a definite maybe. Even if your Humana Vision coverage doesn't extend to sunglasses, we have regular promotions and discounts on eyewear including sunglasses. Just let us know what kind of prescription or non-corrective sunglasses you have in mind, and we'll help you find the best deal.
Where can I use Humana Vision insurance?
You can use your Humana Vision insurance at any eye doctor. If you choose an in-network eye doctor you'll be able to take advantage of your benefits more easily. If you choose an out-of-network eye doctor you'll have to pay up front and then submit a claim to Humana for reimbursement.
Our eye doctors are in-network Humana Vision providers with 6 locations in the Chicago metro area.
Humana Medicare Vision Providers
We take Humana vision insurance, Medicare vision insurance, Humana Medicare vision, and Humana VCP. No matter which plan you're on, we're happy to explain how it works and how to get the most out of your benefits.
Find a Humana eye doctor near you
All of our locations have licensed optometrists (OD) who accept Humana Vision Care plans: