Accepted vision plans >> Medicare
Eye Boutique Accepts Vision Insurance Plans from Medicare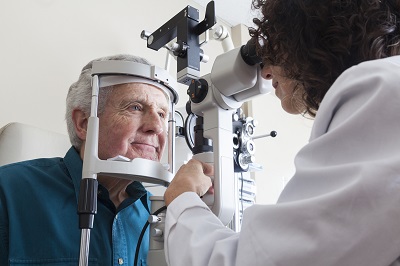 Visit or contact your local Eye Boutique for help understanding what your Medicare vision insurance plan covers.
As we get older, it becomes increasingly important to have routine eye exams and get prescription lenses updated when needed. If you're on Medicare Part B or Part C, sorting through what is and isn't covered can be confusing. Let Eye Boutique look into it for you. Just bring your ID card to any Chicago area location, or call us with your member number. We'll let you know what your policy covers.
We help you make the most of your Medicare vision benefits
Anyone who's retired knows how every dollar counts, but scrimping on regular eye exams and updated prescriptions isn't the best way to save money. Our eye doctors are all licensed optometrists, and our eye care professionals are insurance whizzes, ready to help you make good decisions about your insurance benefits so you can get the eye care and eye wear you need at the best possible price.
Find a Medicare vision provider near you
Our eye doctors take Medicare at 6 Chicago-area eye clinics:
Everyone deserves proper eye care. All our locations provide quality care for any patient, even without vision insurance.
Accepted insurance & vision networks
Medicare Vision Coverage FAQ
Is an eye exam covered by Medicare?
Routine eye exams and optometrist visits for vision correction are typically not covered by Medicare vision insurance. Medicare Part B covers some preventive and diagnostic eye exams. Learn more
Does Medicare cover eye exams for cataracts?
Medicare part B covers specific diagnostic tests and treatment for certain eye diseases. We are happy to do a coverage check to help you understand what your Medicare plan covers. Learn more
Does Medicare cover glaucoma testing?
Medicare Part B covers a yearly glaucoma test for patients at high risk for glaucoma. Learn who's eligible

Does Medicare pay for eye exams if you are diabetic?
Medicare Part B covers an annual eye exam for patients living with diabetes and diabetic retinopathy. Learn more

Are glasses covered by Medicare?
Generally, no. If you've had cataract surgery to implant an intraocular lens, Medicare Part B helps pay for corrective prescription lenses and standard frames, or a set of contact lenses. Learn more

What if I have Humana or UnitedHealthcare Medicare vision insurance?
We accept both Humana and UnitedHealthcare vision insurance plans, as well as Medicare. Whether you enroll in Medicare through the government or in a Medicare Advantage plan through a private company, we're happy to go over your vision insurance coverage with you so you understand exactly how it works.
Contact or visit the Eye Boutique nearest you with your Medicare ID card or member number to make the most of your vision benefits.