Geneva
Our eye clinic is in the Geneva Commons by the Corner Bakery & Bar Louie.
630-232-8798
1622 Commons Drive, Geneva, IL 60134
630-232-8798
1622 Commons Drive, Geneva, IL 60134
Store hours
| | |
| --- | --- |
| Monday | 10am-7pm |
| Tuesday | 10am-7pm |
| Wednesday | 10am-6pm |
| Thursday | 10am-7pm |
| Friday | 10am-7pm |
| Saturday | 9am-4pm |
| Sunday | 11am-4pm |
Geneva optometrists
Our Geneva eye doctors provide the highest level of eye and vision care for anyone at any age.
Optometric services include:
Comprehensive Exams
for eye health
Specialized vision care
for pilots, athletes & driving
Treatments for dry eye,
digital eye strain & other vision problems
Contact lens
fitting & consulting
Meet your Geneva eye doctor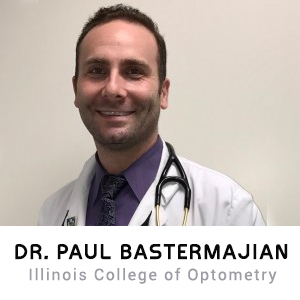 Paul H. Bastermajian, O.D. received his Doctorate degree from the Illinois College of Optometry in 2008, in which he earned honorary and academic awards.

His emphasis is on pediatric optometry, primary & advanced care. He was the recipient of the Dr. Lorayne Pocius Politser Scholarship in 2008 and the recipient of the Wildermuth Foundation Scholarship in 2006.

Dr. Bastermajian completed his undergraduate program at the University of Illinois at Chicago.

He had previously worked as an A.B.O. Certified optician, Lab Technician, and Dr. Technician since 1999.

Currently, Dr. Bastermajian is a member of the Illinois Optometric Association, American Optometric Association, Tomb and Key Honor Fraternity, Beta Sigma Kappa Honor Society, Golden Key National Honor Society.

Languages spoken: English, Armenian and Spanish
Schedule your eye exam or contact lens fitting online, or contact Eye Boutique in Geneva Center today.
Contact Geneva Schedule an exam
Yes, our Geneva eye doctor takes insurance!
Everyone deserves quality eye care. Our eye doctors accept more kinds of vision insurance than other eye clinics in the area, including VSP insurance.
Yes, you can see an eye doctor without insurance
Don't let a lack of insurance keep you from getting the eye care you need. At our Geneva eye clinic you'll find affordable options even without vision insurance.
Eye doctors for routine care, injury & disease
Our Geneva optometrists see patients for vision evaluation and all types of eye problems, including:
Styes
Pink eye
Chalazion
Dry eyes
Eye infections
Eye injuries
Diabetic eye problems
Eye pain
'Floaters'
Graves' eye disease
Glaucoma
Cataracts
Blurry vision
Headaches
Lazy eye (amblyopia)
Macular degeneration
Migraines
Ptosis
Retinal detachment
Uveitis
Red eyes
Scratched eye
Strabismus (crossed eyes)
Corneal ulcers
Some patients ask if it's "worth" seeing an eye doctor for a bump on the eyelid, a sudden vision change or persistent eye irritation. The answser is yes. You only get one pair of eyes. When in doubt, see an eye doctor! If necessary, our optometrists can refer you to a suitable eye specialist.
You can get a free consultation with a vision care specialist to learn more about our affordable eye care options. Walk-ins and new patients are always welcome.
Eye doctors for the whole family
We welcome patients of any age: from young children getting an eye exam before kindergarten, to college-age adults, older adults and seniors concerned with age-related vision changes. Our pediatric eye doctors provide caring, comprehensive eye care and answers to parents' most common questions about pediatric eye exams.
Whether you need an eye exam to update your prescription or an eye doctor's note for tinted windows, you'll find expert care and affordable treatments at Eye Boutique.
Caring optometrists

& cutting edge technology in Geneva

The optometrists at Eye Boutique provide Geneva residents with individualized care while taking the time to educate them about general eye health.

Eye Boutique's state-of-the-art eye care center in Geneva uses the latest equipment to diagnose eye disease and vision impairment. Our eye doctors use early diagnosis, preventative treatments and a patient-focused philosophy. Most importantly our specialists provide the highest level of eye and vision care to you and your family.